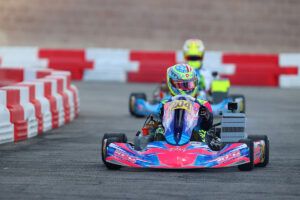 When the checkered flag flew on the 2022 ROK Cup USA ROK Vegas event this past weekend, Rolison Performance Group driver Caleb Gafrarar had earned a pair of top-five finishes. While these are excellent results in the talent-filled junior classes, Gafrarar left the temporary circuit adjacent to the RIO All-Suites Hotel & Casino hungry for more.
"The goal was definitely a win, and we were not able to accomplish that this weekend," explained Gafrarar. "We seemed to struggle a little for speed, and I made an error in one of the ROK Junior heat races which really put us behind. In the end, finishing fourth and fifth is not bad but it has sparked my motivation even more for the next event."
After a delayed start to the event on Wednesday as high winds damaged the barrier-lined circuit, ROK Cup USA officials went to work rebuilding the track and allowing drivers their complete five rounds of practice. Thursday provided another two practice sessions in warmer and less windy conditions before qualifying set the stage for the weekend.
Gafrarar's best results came from the ROK VLR Junior class as after qualifying fourth on Thursday afternoon. The North Carolina resident finished fourth, second, third, and sixth in his four heat races before crossing the line sixth in the main event. Moving forward two positions due to some penalties incurred by others, Gafrarar had his first top-five main event result of the weekend.
A slightly better performance in ROK Junior qualifying saw Gafrarar earn the third fastest lap of the timed session, a scant .117 away from the pole position. Pushing hard to get everything out of his RPG prepared Kosmic by OTK chassis, Gafrarar would be forced to start heat one from the inside of the second row.
A solid second-place finish in heat one provided momentum for Gafrarar, but that momentum was soon crushed in heat two as contact with a barrier late in the race forced a DNF and a 24th-place result. With the progressive style heat race format, Gafrarar started heat three on Saturday morning from the outside of row 12, driving forward to finish seventh before a post-race penalty shoved him back to 11th. An impressive third-place finish in heat four set the stage for Championship Sunday where Gafrarar raced hard but could only manage a fifth-place result.
With a weekend off to reflect on the 2022 ROK Cup USA season, Gafrarar will also look forward to his next event. Returning to Las Vegas over the November 16-20 weekend, Gafrarar will take on the 25th annual Superkarts! USA (SKUSA) SuperNationals on a different layout, but in the same parking lot at the RIO facility.
Caleb Gafrarar would like to thank Rolison Performance Group, OTK USA, Kosmic, AVP Engines, his mechanic, Will Orsini, Circle K, Molecule, Bell Helmets, Minus 273, ULV, From the Ashes, and CPI Security for the continued support in the 2022 racing season.
Photos: Canadian Karting News