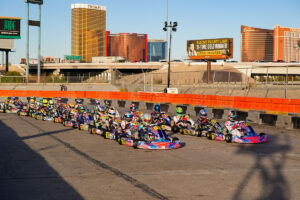 It was a Superkarts! USA (SKUSA) SuperNationals that Caleb Gafrarar will remember forever, but also one that he would like to quickly forget. Competing in a pair of Junior classes out of the Rolison Performance Group (RPG) program, the Kosmic driver flexed his muscles during Friday and Saturday's heat races to win five of six, but Sunday saw his valiant efforts go by the wayside with a pair of top-five results.
"It was a dream weekend leading into Sunday and everything was going in the right direction for us," explained Gafrarar. "I had to rebound from a P11 qualifying result in KA100 Junior, to drive through the field and win two of three heat races, earning the pole position for Super Sunday.  X30 Junior competition was flawless qualifying on the pole and winning all three heat races, again earning the pole position for Super Sunday.  I was the driver to beat and had momentum on my side, but also had a target on my back."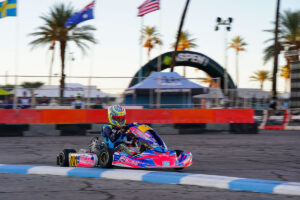 With the competition knowing the speed of Gafrarar in both the KA100 Junior and X30 Junior classes, Sunday saw the hungry field of Junior drivers attack to push Gafrarar down the running order. Understanding the start of both races would be aggressive, Gafrarar defended the inside of turn one, but it was not to be.
Gafrarar added, "We just did not have the speed on Sunday when it counted. Disappointing for sure after the season we had to not be able to win the biggest race of them all, but it has made me hungrier to return to Las Vegas next year and win!"
As the only SKUSA Pro Tour Champion to earn their class pole position on the weekend, Gafrarar ended his 2022 season the same way he started it, on the podium, as the 2022 SKUSA SuperNationals X30 Junior Vice Champion. While Gafrarar also finished on the podium in KA100 Junior, a post-race time penalty of five seconds relegated him down the running order to a 16th place result.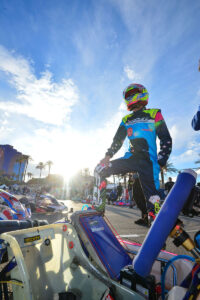 "I am ready to start 2023 now," continued Gafrarar. "A huge thank you to RPG, OTK USA, Kosmic and AVP Engines for the on-track product and my mechanic, Will Orsini.  Without all of them, this storybook season would not have been possible."
Caleb Gafrarar would also like to thank Circle K, Molecule, Bell Helmets, Minus 273, ULV, From the Ashes, and CPI Security for the continued support in the 2022 racing season.
Photos: On Track Promotions