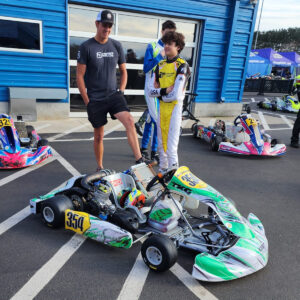 After dominating the junior ranks of national-level karting in 2022, Caleb Gafrarar will see a year of change in 2023. Gafrarar will see a new team, a new class, and a new chassis brand this weekend as he takes on the Orlando Kart Center and the opening round of the United States Pro Kart Series (USPKS).
"We are finally set for some kart racing this season," expressed Gafrarar. "I am ready to tackle the senior ranks and will aim for the podium's top step this weekend. A huge thank you to everyone who has made this possible, especially Trinity Karting Group and Kart Republic NA. Let's go win some races."
After testing with multiple brands and teams, the decision was to go in the direction of Kart Republic and TKG for this event.
Gafrarar added, "Shawn has built TKG to a first-class racing team.  They are coming off a SuperNats victory and the KR brand dominated and won the SKUSA winter series championship, so it's evident the team has a winning record, and so do I.  I think together we will be a potent combination. During the test weekend, I found that the kart was easy to drive, and we returned some respectable times despite the weather conditions throughout the weekend. I look forward to Orlando, a track I know and love."
"Caleb is a proven winner, and we want to help him continue both his success and the success we have had as a team," explained TKG's Shawn Bayliff. "We trust our team and our equipment, and I am confident that Caleb can take us to the top of the ranks in the senior classes."
In a culmination of people and businesses coming together to get Gafrarar back on track, Phil 'Piggy' Pignataro will mechanic the LAD Specialties-powered Trinity Karting Group Kart Republic NA this weekend at the United States Pro Kart Series.
Caleb Gafrarar would like to thank Trinity Racing Group, Kart Republic NA, LAD Specialties, Circle K, Bell Helmets, Molecule, Minus 273, ULV, From the Ashes and CPI Security for the continued support as we move into the 2023 racing season.