After earning multiple victories, podium results and the Superkarts! USA (SKUSA) Pro Tour National Championship, Caleb Gafrarar is taking his talents to Europe this coming weekend. Set to take on the next round of the FIA Karting Academy Trophy, Gafrarar will descend on Le Mans, France for some high-level, wheel-to-wheel karting competition.
Sitting 13th in the championship point standings out of more than fifty competitors, Gafrarar is looking towards the front of the field this weekend to help level up in the overall positioning. Showing speed at the two Academy events to date in 2022, the North Carolina resident is looking to turn that speed into results this weekend.
"I love the competition but hate losing, so I will be racing my heart out again this weekend as I look to put the American flag on the top step of the podium," explained Gafrarar. "Racing in the highest level around the world is really pushing my skill set to the next level and bettering myself for the future, but I want to win and that is the number one goal this weekend."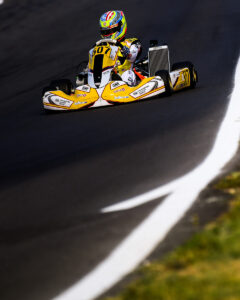 A winner throughout North America in 2022 at the Florida Winter Tour, SKUSA Winter Series, SKUSA Pro Tour, and United States Pro Kart Series (USPKS), Gafrarar has earned countless podium results and proven that he is one of the top junior drivers from the North American karting community.
Gafrarar added, "I want to become a winner in Europe, and there is no better time for both my partners and me than this weekend."
Stay tuned to the Caleb Gafrarar Racing social media pages for news, information, photos and results from Le Mans, France.
Caleb Gafrarar would like to thank Rolison Performance Group, OTK USA, Kosmic, Circle K, Molecule, Bell Helmets, Minus 273, From the Ashes, and CPI Security for the continued support in the 2022 racing season.
Photos: Sportinphoto